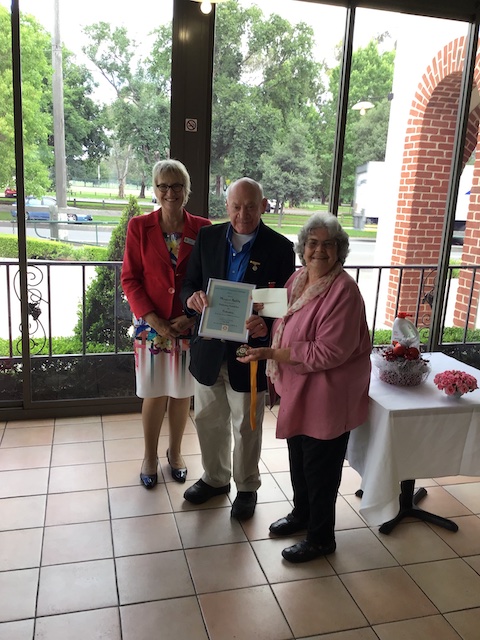 Margaret Appleby has been awarded the Bert Mulley Award for 2021 for her outstanding services to the NSW Rose Society over an extended period of time.
Over her 30 year membership of the Macarthur Region, Margaret Appleby OAM, has actively pursued the aims of the NSW Rose Society to encourage, improve, cultivate and extend the cultivation and appreciation of the Rose. Her commitment and passion to these aims have been the hallmarks of her membership.
As a child growing up in outback NSW, Margaret had a deep love of animals, but ultimately it was plants, particularly roses which became a passion. This is reflected in her continuous 30 year membership and contributions to the Macarthur Region and the Rose Society of NSW.
Margaret's deep commitment to people in need has been reflected in her progression from Special Education teach to Lifeline volunteer and eventually Chief Executive Office of Lifeline Macarthur. In this role, Margaret established the Rose Foundation training workshops to help reduce the stigma associated with mental health and how people deal with life threatening depression. She is nationally and internationally recognised as a suicide prevention expert and has been awarded the Order of Australia for this work. In addition, Margaret is the author of several books on suicide prevention, including 'Hear the Cry', which has sold over 25,000 copies.
Amidst these heavy commitments in suicide prevention, Margaret has always found time to engage with her love of the rose and to foster the aims of the Rose Society. She was quoted in the book by Margaret Caroll 'Ordinary People, Extraordinary Lives' as saying that her own respite and therapy is growing roses. Further more her recipe for rose growing is 'plenty of water, plenty of fertiliser and give them away to bring happiness to others'
True to this recipe, Margaret has always given gladly and willing whenever a need is expressed, bringing a sense of happiness and wellbeing to people through her roses. Over many years she has generously given away buckets of roses and was recently heard saying that she aims to give away at least 1,000 buckets of roses each growing season. These roses are donated to local schools and charities, her sons' work colleagues and is always a reliable 'go to' when roses are needed for rose talks, demonstrations and fund raising activities. The generous contribution of her roses to these events ensures their success.
Margaret has also used her rose knowledge and educator skills to gently nurture the love of the rose among friends and acquaintances, helping them establish rose gardens of their own, assisting with suitable rose selection, providing ongoing advice and care and signing thump for Rose Society membership.
Other work Margaret does to foster a love of the rose and to support the Rose Society is to host rose lovers at her garden, to share enjoy and learn about roses and she has hosted the television show Better Homes and Gardens, to promote the rose across Australia. She has participated fully in the Rose Society activities and found time to hold the position of Editor of the NSW Rose Journal for four years from 1999 to 2003.
In these challenging times of the pandemic of Covid19, which has impacted the mental health of so many, it is appropriate that we recognise one of our favourite rosarians. Margaret has contributed so much, and continues to do so throughout the pandemic, so much to the mental health and wellbeing of people through intuitive conversations and the constant sharing of her roses to promote better mental health'. She continues to share her love of roses, and her roses, with the broader community to bring a sense of happiness and well being to the community and is a worthy recipient of the Bert Mulley Award 2021.
Back to News list